---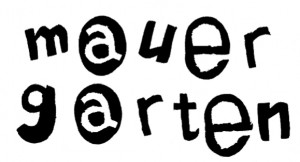 What is the Mauergarten?
Mauergarten is a local community initiative that connects people of different cultures and backgrounds. We have been caring for and developing an open, social and organic space in Berlin's Mauerpark since 2012.
Where does the name originate from?
The Mauergarten is situated at Mauerpark, in the heart of Berlin. The park's name originates from the Berlin Wall (German: die Mauer) that was built in 1961 to divide East and West. A section of the wall used to run parallel to the park, up until Berlin's reunification in 1989.
What happens at the garden?
The Mauergarten is a place of learning and of change. It's a space that is constantly growing together with the community that nurtures it. We plant vegetables, herbs and more – while learning from each other and expanding our awareness of gardening, sustainability, ecology and healthy living. We also use the garden as a place to gather for picnics, barbeques and community celebrations.
What's important to our community?
It's important for us to work in an ecologically sustainable way. We save as much soil and water as possible. We don't use any pesticides or hybrid seeds. We aim to cultivate a social environment that is inclusive to people of all cultures and backgrounds.
How can I join the Mauergarten?
Anyone who'd like to contribute to the garden or the community association is welcome to join us. You could help with existing projects, initiate new ones or join one of our regular meet-ups. Your support will help the Mauergarten continue to thrive.
Due to high demand, there's currently a waiting list for the raised gardening beds. Interested in building one? We'll add your name to the waiting list. You could also help to nurture one of the existing shared ones.
Please don't hesitate to talk to us in the garden, or shoot an email to: info@mauergarten.net
When's the best time to say hello?
Every Sunday afternoon we collaborate together at the garden space. Why not drop by and say hi? You're also welcome to come along to one of our events. You'll find the event schedule – including gardening and community projects, workshops and film screenings – on our website.
More questions?
·      Head over to our website: www.mauergarten.net
·      Write an e-mail to: info@mauergarten.net
·      Say hello in the garden and look at the info board
·      Come to a community meet-up
We hope to see you soon!